Applying for a Shotgun Licence
Applying for your first shotgun licence can be both exciting and daunting. Although it's not a complicated task, it can take several months before you…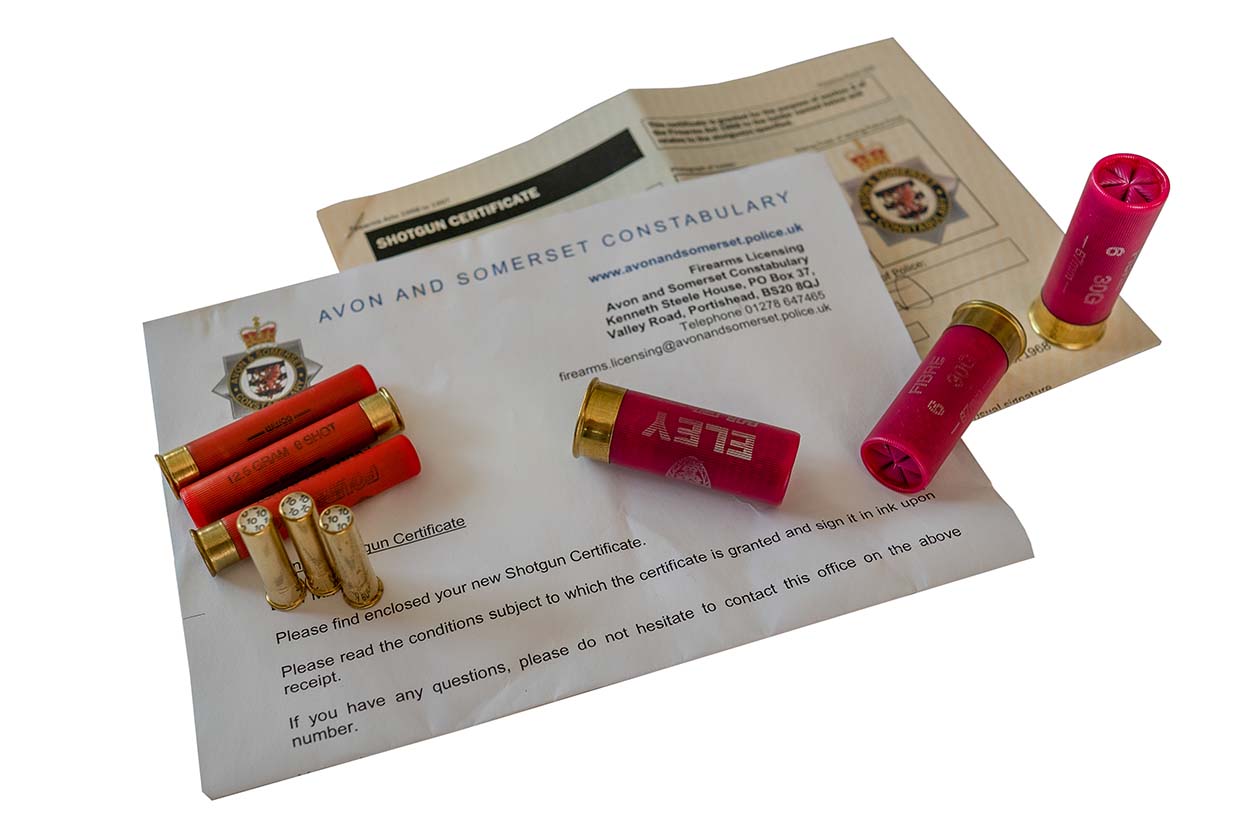 Applying for your first shotgun licence can be both exciting and daunting. Although it's not a complicated task, it can take several months before you get your licence, so it's advised you have everything in order to help your application proceed as quickly as possible.
What is a shotgun certificate?
A shotgun certificate (SGC) lasts for five years and allows the holder to own a shotgun. However, it is not quite this simple as there are restrictions on the type of shotgun that can be held on a shotgun certificate. The most restrictive aspects relate to cartridge capacity – a shotgun held on a SGC may only hold 3 cartridges at any one time, and must be restricted from holding any more mechanically. This means that readily removable magazines cannot be used. The shotgun must also be smooth-bored – not rifled, and solid slug cartridges cannot be purchased or used.
To overcome these restrictions a firearms certificate (FAC) must be applied for. A firearm certificate is somewhat of a catch-all, and each application is tailored to the applicant's needs. The increased capacity shotguns synonymous with practical shotgunning require an FAC certificate, and cannot be held on a SGC.
Firearms held on a SGC are often referred to as section 2, whereas those on an FAC are known as section 1.
Applying for a shotgun licence
The traditional way of applying for a shotgun licence is using a paper form. This can be downloaded from your local police department's website, filled out, and then returned through the post. Depending on your local police department, you might be able to apply online. No matter which method you choose, you will be charged a fee of £79.50.
The purpose of the application form is to collect information to aid a background check. Aside from personal information, a passport-style photograph must be supplied, as well as a referee who is a resident of Great Britain, has known you for at least two years, of good character, and not a family relation. Unlike a firearms certificate no good reason is needed to own or possess a shotgun.
Once your local police department receives your application they will perform a background check to ensure that you are safe to own a gun – this includes contacting your referee. They will also perform a home visit where you will be expected to answer basic questions, and your security arrangements will be assessed.
For this reason you should have a gun cabinet installed before your home visit, as you will not be issued with a certificate if the Firearms Enquiry Officer is not satisfied with your installation. Although a second visit to inspect your gun safe is perfectly acceptable, it will result in a delay to your application.
Once the Firearms Enquiry Officer is satisfied with your application, they will recommend you for grant of a SGC, and you should soon receive your paper certificate in the post.
How long does a shotgun licence take to arrive?
The time from application to a licence arriving in your hands varies dramatically depending on where you live. For example, information obtained by ShootingUK shows that applicants in Avon & Somerset have to wait for an average of 117 days (~4 months) before receiving their certificate, whereas those in Lincolnshire have an average wait time of just 27 days. I waited 5 months for my certificate in 2020.
What effect has CoViD-19 had on shotgun licence applications?
Although restrictions are drawing to a close, and things are beginning to return to normal, the effect of CoViD-19 is still being felt on the shotgun certificate application process. In addition to longer wait times, many forces have replaced face-to-face interviews with video calls.
Do I need insurance to own a shotgun?
It is not a legal requirement to possess insurance, however, it is highly recommended. Most Firearm Enquiry Officers will approach the subject during your interview, and advise that you take out at least basic insurance. Although there are several providers, the Clay Pigeon Shooting Association (CPSA) and the British Association for Shooting & Conservation (BASC) are popular.
What security arrangements should I make for a shotgun application?
To be granted a shotgun certificate, you must make the proper security arrangements. Although the consensus is that you should have either a secure, alarmed room (a "gun room") or shotgun cabinet for the purpose, the law only requires that guns are kept securely.
If you opt for a gun cabinet – the most common approach – you will want one that meets British Standard 7558. The safe should be attached to a solid internal wall, and not be visible to casual visitors. Locating your gun safe in an outbuilding, such as a garage, is generally not permitted. If you live in an area susceptible to crime, additional measures such as installing an alarm system might be required.
How much does a shotgun licence cost?
The price of shotgun certificates is set at a national level. The costs for 2021 are outlined below.
| | |
| --- | --- |
| Item | Price |
| Grant of firearm certificate | £88.00 |
| Grant of shotgun certificate | £79.50 |
| Renewal of firearms certificate | £62.00 |
| Renewal of shotgun certificate | £49.00 |
| Registered firearms dealers (grant or renewal) | £200.00 |
| Replacement of lost or stolen Shotgun Certificate | £4.00 |
| Replacement of lost or stolen Firearm Certificate | £4.00 |
| Visitor permit | £20.00 |
| Visitor permit (group of between 6 and 20) | £100.00 |
| Registered firearms dealer grant for game fair | £13.00 |
| Variation of firearm certificate | £20.00 |
| Grant of coterminous (both) certificates | £90.00 |
| Renewal of coterminous (both) certificates | £65.00 |
Taken from Avon & Somerset Police
Frequently asked questions
How hard is it to get a shotgun licence in Britain?
Simply, if you are a "good citizen", and generally don't raise any alarm bells the application process should be smooth sailing. Remember, a licence exists to make sure that the wrong people don't get their hands on firearms – and therefore, given the political climate, that we can continue to own them.
How old do you have to be to hold a shotgun certificate?
There is no minimum age requirement for a shotgun certificate. However, if you are under 15 you will require supervision when using a shotgun. It is also not possible to purchase a shotgun or ammunition for a shotgun before you are 18.
Can I get a shotgun licence as a student?
Yes, you can. Provided you meet the aforementioned requirements, and have a suitable place to install a gun cabinet, there is no reason you should not be granted a SGC.
Can I apply for a shotgun certificate online?
Most police departments now support online shotgun certificate applications, with the remainder expected to accept them before the end of 2022.